It's May in Indy and that means Race action! For today's post, I'm partnering with Macy's to feature a look that is Indy 500 Inspired. Black and white are a must when it comes to the most famous race in the world. With that in mind, I wanted to select pieces that are comfortable enough to wear at the track and transition well to a race party for the after hours. I started with a knit midi skirt and loose tank as the base of my look. I threw on a denim jacket with sneakers for the track.
Indy 500 Inspired Look ft. Macy's
Tank | Skirt | Jacket | bag (similar)
Shop Indy 500 inspired look: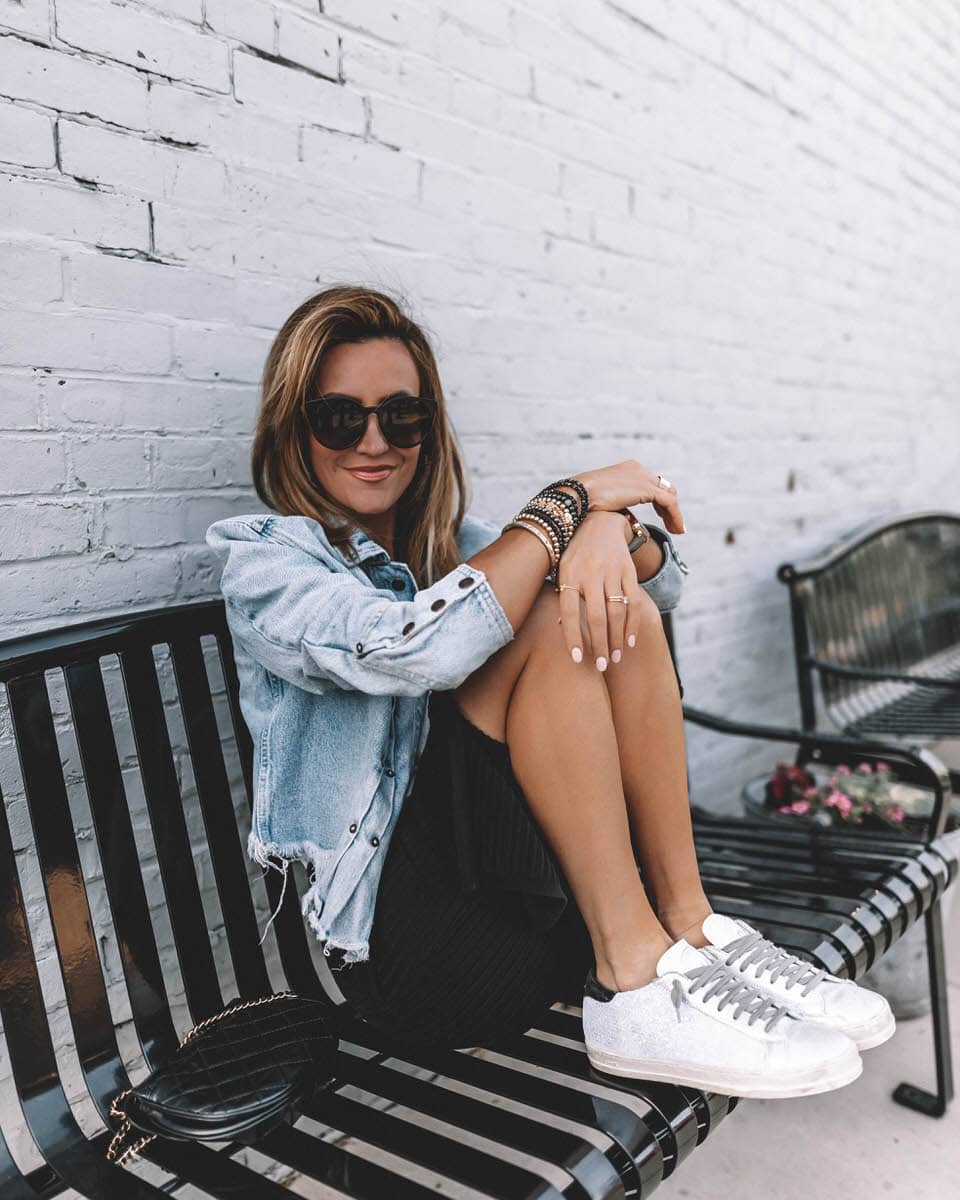 Shop Accessories

I traded the sneaks for heels for the evening festivities. Add a leather jacket if it gets cold. May is pretty unpredictable here in Indy!
Shop night look:

Since we're talking May, we couldn't leave REV Indy out of this post. "Rev brings together food, fun and a night of celebration to kick off the greatest month in racing. The best part, though, is that it's all for a good cause. Funds raised support IU Health Foundation statewide trauma and critical care programs. These funds provide care for drivers and patrons at the IU Health Emergency Medical Center located at Indianapolis Motor Speedway and for patients across Indiana in need of critical care." – Rev Indy
Both Brian and I were so excited to get wardrobed by Macy's for this amazing event as well! I selected a little beaded dress that would go perfect in so many parties during wedding season! Brian went with a navy skinny suit (I'm so proud of him for giving it a try) and pink athletic fit shirt ( his newest addiction)
Shop My REV look:

Other dresses for wedding season

Shop Brian's look:

Tips for attending the race:
Hydrate
Bring sunscreen and re-apply!
Wear comfortable and somewhat loose clothing, as well as comfy shoes there's lots of walking involved.
Check the weather and be prepared. It might be super hot or rainy and cold.
Earplugs help!
Bring snacks and drinks from home.
Have FUN!
Hope you guys enjoyed my picks! See you at the tracks 🙂
Beijos,
-K