A great camel coat will take you far my friend. It's my must-have wardrobe staple during fall, winter and ever during spring depending on the weight of the coat. I purchased this Zara camel coat in New York during Fashion Week. But I have one from years ago that I've worn the crap out of, and just needed an updated look.
What attracted me to this Zara camel coat is the oversized look. It has a relaxed fit with a drop shoulder and menswear vibe! The oversize look makes easier to wear over thick sweaters, fitted blazers and even tees for warmer temps. It's chic yet understated, very Parisian!
Zara Camel Coat: 4 Outfit Ideas
For this first look, I paired my oversized Zara Camel Coat with high waisted jeans (check out this post about this awesome piece under $45). A Gucci tee, blanket scarf and Nike Airforce 1 (totally stolen from Bella!) the sporty vibe goes well with a city look. Perfect for mild winter temps, also super practical to walk but still nice and put together!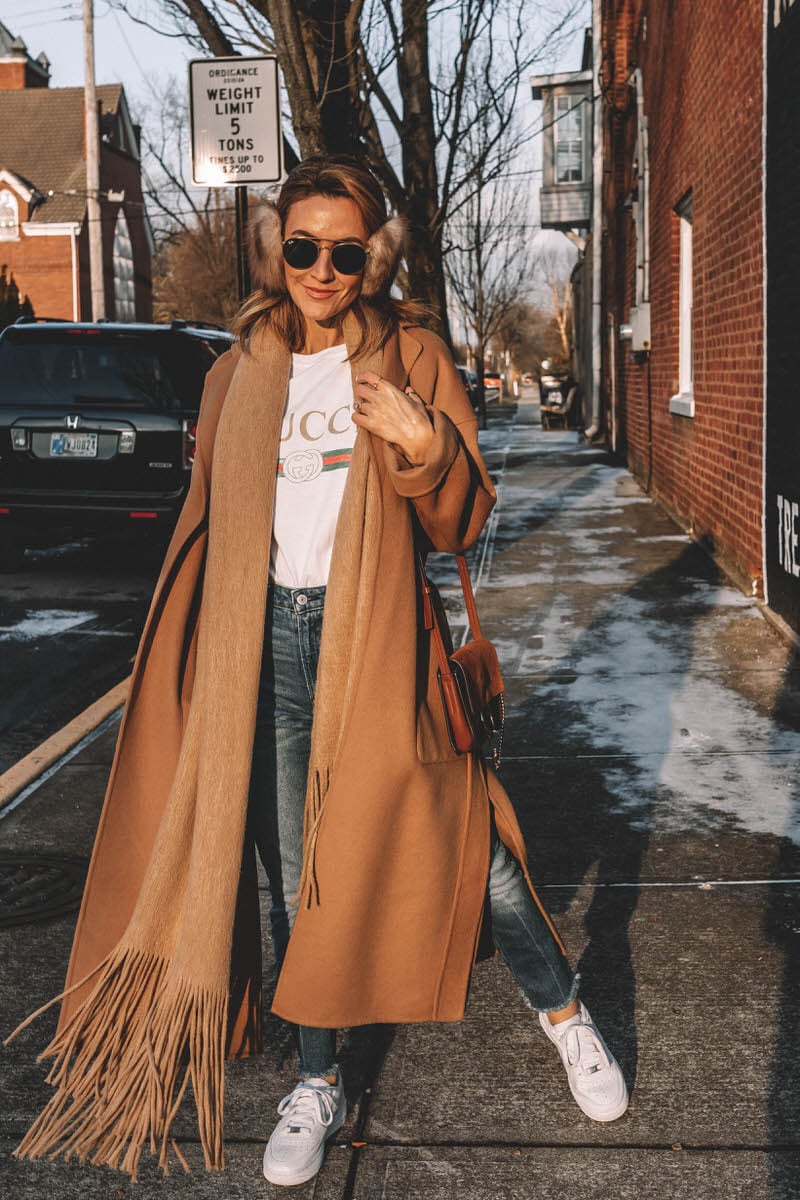 coat (similar) | jeans | t-shirt | tennis shoes | scarf (similar) | sunnies | ear muffs | handbag
SHOP THIS ZARA CAMEL COAT LOOK:

The coat is such an iconic addition to your closet, it's available from dozens of stores. From all kinds of silhouettes, fits, and brands. The choices are endless!! Here are a few of my Camel Coat picks under $100:

The next Zara camel coat look is perfect for winter weather! Keeping warm and cozy with a v-neck sweater, blanket scarf and over the knee grey boots.
And while it's great to find these amazing deals, if you have a little more to splurge this is definitely a piece I recommend splurging on!
SHOP MY FAVORITE CAMEL COATS:

coat (similar) | sweater | jeans | boots | handbag | sunglasses
SHOP THIS ZARA CAMEL COAT LOOK:

Shop accessories:

The side slits on this Zara camel coat allow for lots of movement. Here, I layered it over a grey coat for the plane ride from NYC because I ran out of room in my suitcase! It actually worked out really well, wouldn't you say so?! This look would work out perfectly with the white sneaks too or some killer loafers weather permitting 🙂
my staple coat | staple jeans | tee | grey coat (similar) | belt | booties (similar)| earmuffs 
SHOP THIS ZARA CAMEL COAT LOOK:

Another camel coat look that's a little more business-y I posted last week:
white jeans | sweater | coat (similar) | pumps (similar) | belt | bag | sunnies 
SHOP THIS ZARA CAMEL COAT LOOK:

SHOP MY ACCESSORIES:

See full post with more photos on this look HERE
I hope you guys were able to find lots of fashion inspo for your camel coat or any coat in general! Which Zara camel coat look is your favorite? Let me know in a comment below!
Beijos,
-K