If you are an avid Instagram follower (I hate this term but oh well) I hope you're not sick and tired of hearing about the rStheCon. It was my first time going to their invite only blogger conference and I must say I'm blown away with everything! From the venue to the powerful speeches, to the classes, to the gorgeous lunches, photo opps, beautiful parties and especially THE PEOPLE! Did I say outfits? Well that too, but honestly it's secondary from everything that I've learned and the friendships I made over this past weekend! Now off to outfits cause I know this is why you're here for!!
Airport look: I'm into this old navy blazer like there's no tomorrow! You probably remember last week's essential transition pieces post, he made the list! It's such a classic and never goes out of style. THIS one is included in today's sale ( for two days only you can take 20% off orders under $500 or 25% off orders of $500 or more with code EVENT19 ) I found a good pair of Levi's 501 pretty similar to this sold out one (that I chopped myself, and have been wearing it so much I'm ordering this one too!!!). Go up a size on them for a better fit. Love this little top and you guys know I wear these espadrilles to death, a great dupe is a pair of white converses (included on the sale also!).
rStheCon Outfit Recap

SHOP rStheCon AIRPORT LOOK:

SHOP BAG/LUGGAGE:

SHOP ACCESSORIES:

Bracelets (have so many questions about them every time I wear them! They're Marlyn Schiff. You can use code KARINASTYLE25 to get a discount on them!
We had a brand mixer where we met with brands and got lots of swag upon arriving, I went straight to that with the same outfit. Later that evening we had a pool party thrown by Sole Society!
I wore a fringe kimono dress (sold out, but such a statement piece I can't seem to want to give it up!) I found a few with the same vibe to this sold out the number! I paired with nude heels to elongate my legs 🙂
SHOP THE POOL PARTY LOOK:

SHOP ACCESSORIES:

The second day was a panel with our fearless leader Amber Venz Box, her husband (they're both the founders of Reward Style. And so many amazing brands such as eBay, Garmin, Express and Wayfair. It was extremely inspiring and we all left pumped and refreshed. Ready to conquer the world!!!
I wore the cutest white dress I've been saving for the conference! I'm wearing a size zero, it's pretty full and hi-lo. I love the ruffle deets on the neckline and sleeves. it's cotton so it will probably shrink a bit. I linked from several places that have a few sizes left on each of the retailers 🙂 I paired with a nude heel and my go-to Givenchy Antigona because it fits all of my notebooks and pens!!!
SHOP WHITE DRESS LOOK:

SIMILAR STYLES ON SALE FOR 2 DAYS ONLY:

SHOP ACCESSORIES:

That evening we had a party hosted by eBay. I wore a simple Free People floral maxi-dress with a low cut cleavage. I wore it w a little bralette to make sure my friends were secured inside!! I'm wearing a size 2. This dress is perfect for a spring night date or a beach vacation!
SHOP FREE PEOPLE MAXI DRESS LOOK:

The last day was filled with brand meetings and one last class. Accompanied by a beautiful lunch thrown by JCPenney. I wore another favorite I was saving for the conference and can tell you I'm so happy I did. This boho chic little number pairs well with a more elevated pair of loafers, as well as wedges, heels, and sandals! Super versatile. I toned it down with my fave denim jacket!
SHOP BOHO CHIC DRESS: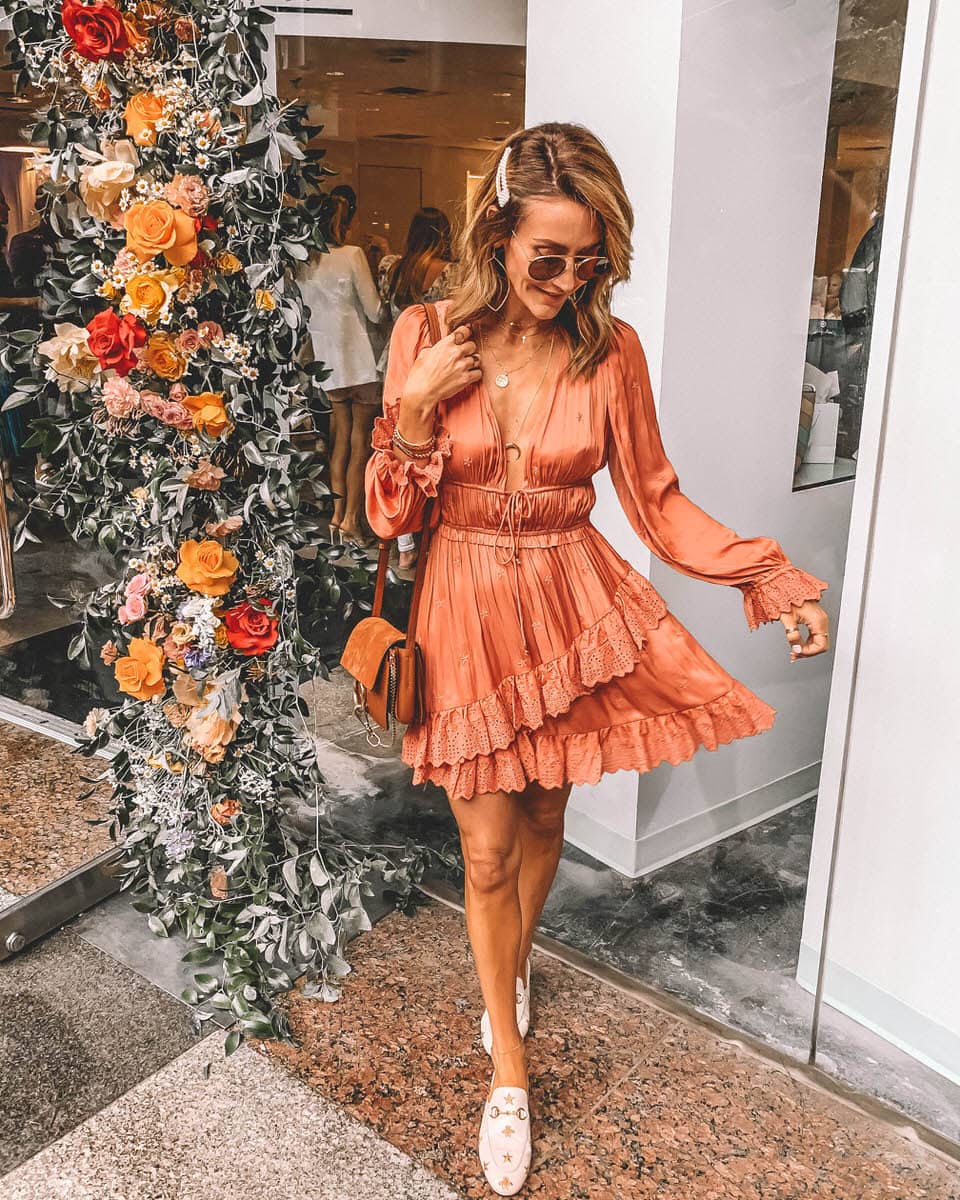 SHOP ACCESSORIES:

Guys, I'll be updating my last outfit during the day today. I have an early commitment and need to get some sleep! These should be plenty for you to get started and enjoy some sale shopping!!! Stay tuned on insta stories today as I'll be sharing some picks and goodies I'll be ordering myself from the sale!
Be back soon,
-K