I'm a big fan of a well-structured trench coat. Funny enough I think the first-ever blog post I put it out into the world was "how to wear a trench coat without looking like a detective". Glad the post is lost somewhere but my taste for this clothing article never faded. In fact, I think it's the easiest way to elevate your look and look fierce and put together just by incorporating this baby into your outfit! On this post, I'll use two colors of this trench coat from Express that I think is so sturdy and had a great price tag! Use discount code 9008 at express check out for $25 off your $100 purchase. Good through 8/15.
*This post is not a sponsored post.
A good start for your chic look is to keep it monochromatic and use and abuse of neutrals. They can interchange easily and take the guesswork out of your plate. On this one, I went for an all-white look and added the tan trench and blush/nude accessories.
Shop all white trench coat look:
I love these high waisted skinny jeans ( I cut the hem myself – see here how to do that yourself!) the tee is a bodysuit and comes in several colors. Best purchase for everyday use and I never have to worry about my tee coming out of my pants! Dainty jewelry gives the final touch on this minimal look.
Another idea is to wear all black and throw the trench coat over! For this look, I chose these high waisted wedgie jeans with a raw hem (this one comes like this! hehe) a sleeveless sweater top and pointy leopard print flats. They're chic, timeless, and super comfy!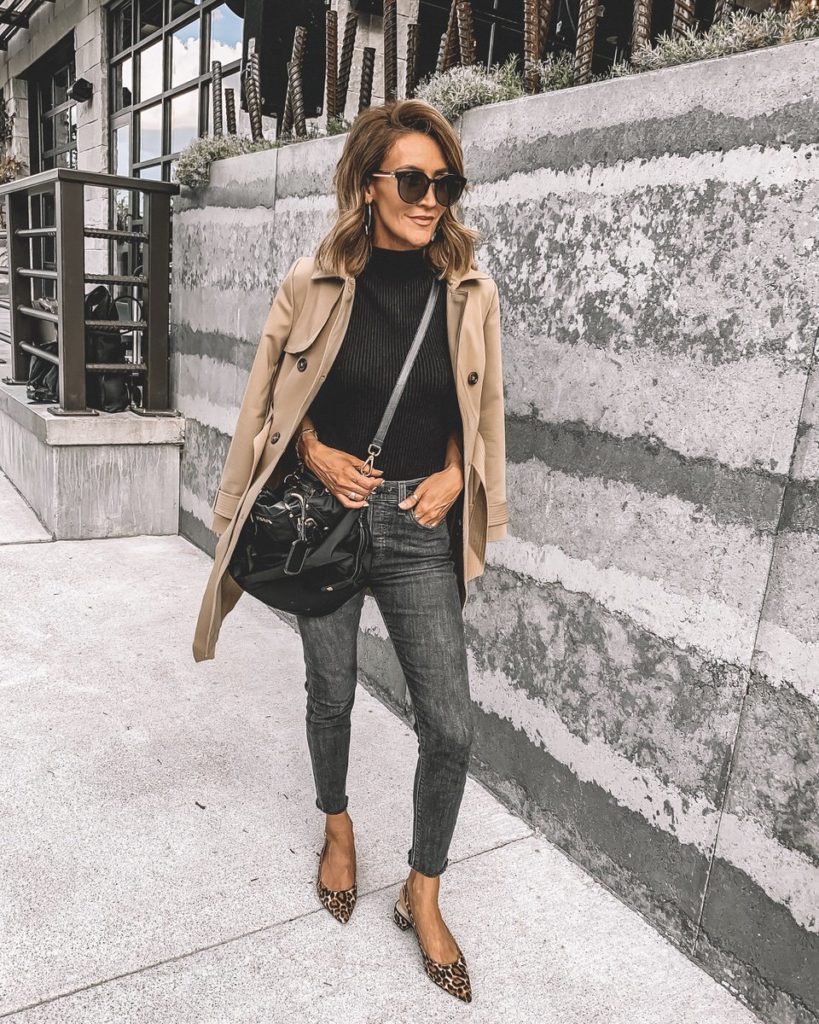 Shop all black trench coat look:
Investing in plain solid pieces is great to give your wardrobe longevity. I like getting trendy pieces at affordable places but usually, don't mind spending a bit more on pieces I'll always wear like a good pair of jeans and sweaters!
I also purchased the olive green version of this trench coat because they ran a sale and mama here is a sucker for a good sale!
Shop fall trench coat look:
This mini suede skirt was a Nordstrom sale purchase I think will take me everywhere the next season! The striped sweater is thin and I love the fall colors. Always going for earthy colors in my favorite season!! you can also wear it alone as a structured dress. Just make sure the belt won't come undone. If I choose to wear my trench coat as a dress I usually wear an actual belt to be on the safe side!
Last option is one you've seen already. I'm wearing the trench with my other cold season staple, a Spanx faux leather leggings.
Shop trench x Spanx look:
See 7 ways to style your Spanx leggings HERE.
Which look is your favorite?
Beijos,
-K