Most people freak out at the words Black Tie, which is a name for "fancy wear" or formal wear. Men must wear tuxedos and women long gowns, that is IF the dress code is reinforced, which is not always the case here in Indy. To make your life easier and give you a little cheat sheet I thought I'd share a GRWM Black Tie Wedding Guest makeup, hair and look with you guys!! PS: this can all be applied to an NYE party 🙂
Makeup:
I primed my face with Beauty Counter Glow Getters Trio cream.
Tarte Amazonian Clay 12 hour wear foundation (even though this is a full coverage foundation, it's still glowy and creamy. Not heavy and dull at all!) My color is N35
One more item worth a big mention is Bobbi Brown Nude Drama Eyeshadow palette. It has all the neutrals in matte, shimmery and glittery eyeshadows in one palette. Super easy to go natural or to make a pop in a very classy way! This is all I've been reaching for since I purchased it for a campaign and took it to Brazil with me in October.
Face, brows:

Eyes:

Face color, lips:

Tools, setting spray, tanner :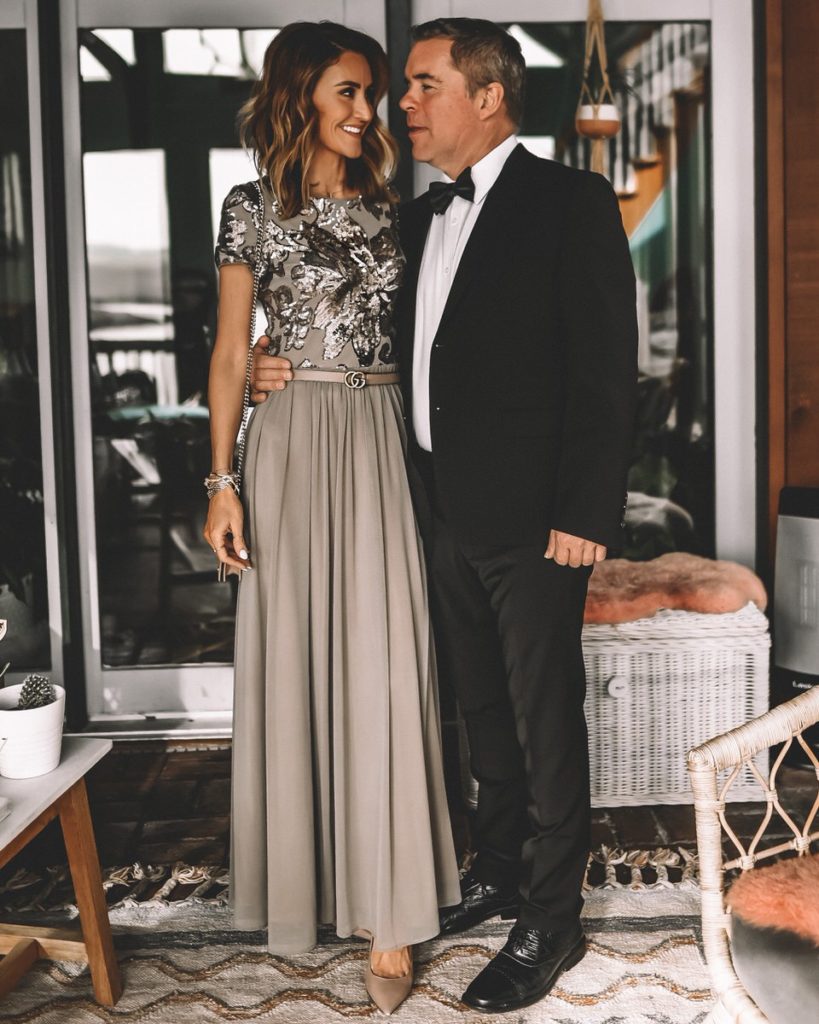 Hairdo:
It's best if your hair is at least a day old. It will have some grit and hold up the style longer. If you can't stand having your hair unwashed just spray a dry shampoo or texturizing spray prior to styling it!
Hair:

I always finish with a fine mist spray from Oribe!
Outfit:
It's good to have a plain gown around for events like this. Opt for a neutral color instead of trendy so you can style it different for a multitude of occasions. One inch from the floor is the typical length for a Black Tie event. I really like how simple this dress is, although we got a little sequin action!!
For men, it's always a tux BUT the look can be achieved with a simple black suit, white button-down crisp shirt, and a bow tie. Shiny shoes complete the look for the guys 🙂
Both mine and Brian's outfits are on sale right now. I love the slim suit fit!
Shop our Outfits:

PS: I'm loving your messages about the wedding and the GRWM video! I would love to do more of these in the future!!
Beijos,
-K