I can think of about dozens of ways I could style a plain white tee. Are you also a fan? This month I decided to take a challenge from Jockey and incorporate a menswear plain white tee into my wardrobe. And to make things more fun I invited Brian to do a His & Hers Plain white tee matching outfit! Even though I have a handful of white tees it's been a hot minute since I purchased from the men department. White plain tees go with absolutely every bottom I own in my closet, they're versatile and can take the look down a notch to a casual chic vibe. I love the men ones for a couple of reasons: they're looser on the body so you can tuck them in, knot them or wear them loose to sleep. Plus share them with hubs (so it's not in my shopping budget, it's on his!)
His & Hers Plain White Tee
The most simple way to pair this plain white tee is to wear with leggings and sneakers to run errands or go to the gym. The leggings I selected for this look have side pockets and make it super useful for a lifestyle piece. I wore a pair of cotton panties and a bralette for comfort but would wear my sports bra if I was going to work out. The leggings run a bit on the big side so if you're in between sizes, go down. I do wish they came in XS but I'm wearing a small size on the men tee and leggings.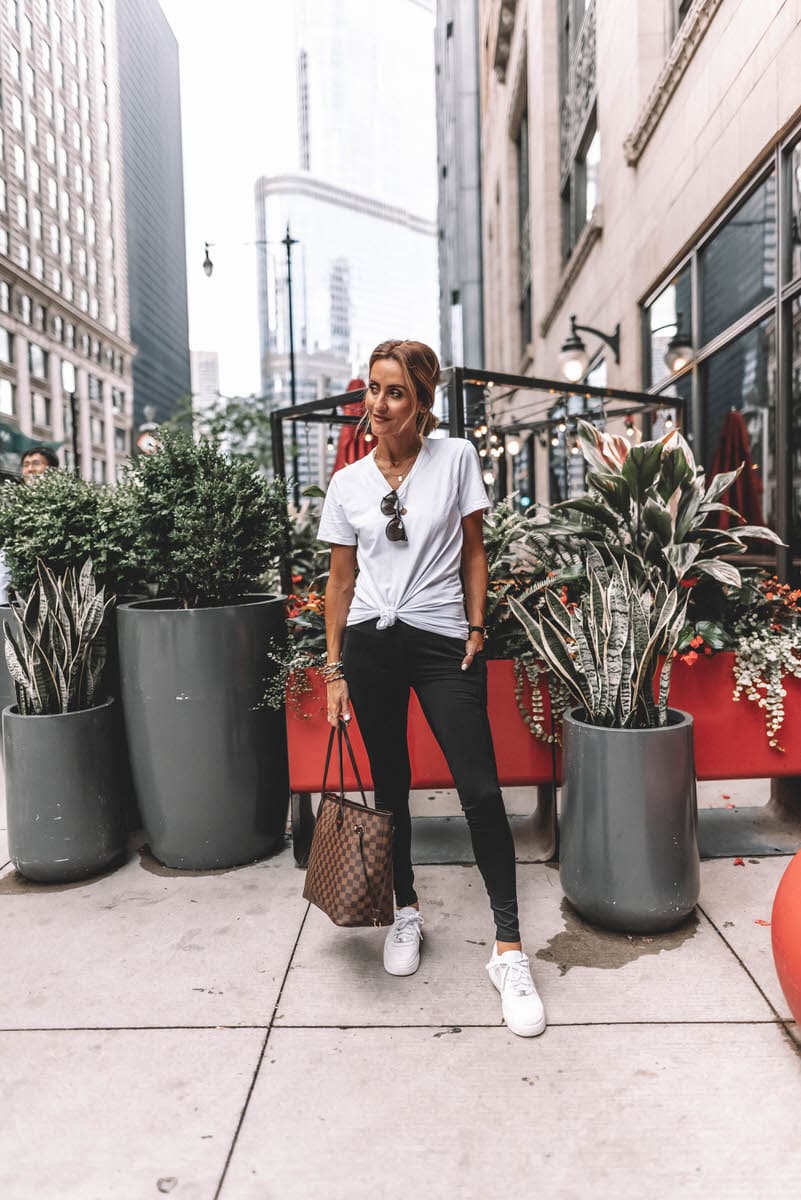 Shop this casual plain white tee look:

I wanted to play matchy-matchy with hunny buns and picked up a pair of joggers for him, the rest has been history, he's got that pair of pants almost on a daily basis. I got him the small size (he wears 32/33 waist jeans for reference). He's wearing the Large size of the stretch plain white tee, I wanted to get the medium but he likes them a bit loser.
If you like the crew neck and tag-free look better, these are under $50 for a pack of 6 tees and they come in black or white.
Shop His & Hers Plain White Tee and athleisure wear:
More options for him:

You guys know how much I've been loving on Jockey and have been wearing everything from their retro stripe undies and bra styles to their summer PJ's (click here to see pics and read all about them)
I also explored Jockey's activewear and athleisure and have been very happy with the support and quality. Read more about these pieces here.
More ways to incorporate a white tee into your wardrobe is wearing with jeans, career pants, leather pants, skirts, and over dresses. What's your favorite way to wear a men shirt!
Beijos,
-K